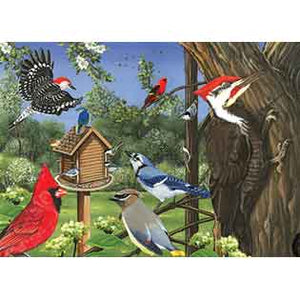 Around the Birdfeeder Tray Puzzle
Around the Birdfeeder is a 35 piece Nature Habitat tray puzzle.  Our Habitat tray puzzles include interesting facts about the image, which can be found on the back of the puzzle.  When all the puzzle pieces are removed from the tray, one can see the entire image in a sepia tone.  This helps the wee ones put the pieces back in the proper place.
A tray puzzle is durable inlaid pieces in a tray with definitive outlines underneath for the child to follow when figuring out where each piece goes (see sample image).  The shapes of the pieces and the colours are made to assist easy learning for young children.  Recommended for ages 3+.
14" x 10" Tray size | 35 pieces