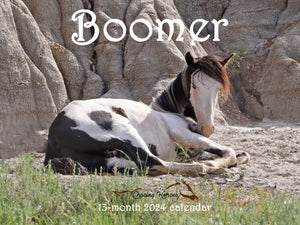 2024 Chasing Horses 13-month calendars
We have 5 NEW Chasing Horses calendars for you for 2024! 
Each calendar is 12x9 and feature the wild horses that call Theodore Roosevelt National Park in Medora, ND home. These are 13-month calendars that start in January of 2023 and end in January of 2024! There are 13 different images throughout the calendar PLUS 13 different images watermarked over the dated part of the calendar.  Calendars are saddle stitched. 
The 5 designs include: 

Living Legacies - showcases the sons of some of the TRNP legends that we have lost Fighting for the Spirit of the Badlands - WHO Are You Fighting For?  This calendar was designed for Chasing Horses Wild Horse Advocates.  100% of the profits from the sale of this calendar will go to support their advocacy work.  
Legends of TRNP - pays tribute to horses we have lost over the years in TRNP
Generations: Foals & Yearlings - showcases some of the grandkids of the TRNP Legends 
Boomer - Showcases everyone's FAVORITE 3 year old - Boomer.  Boomer was born in 2020 to Mare Strawberry and Stallion Thunder Cloud.  His mom died when he was 6 months old.  His story has captured the hearts of people from all across the globe!